Our Latest Post:- Top Models Of Washing Machine In 2020
Technology is moving fast in this century. These days almost all people have a mobile phone. So many people have a question in their mind why we should wear a watch even though we have a mobile. People say we want to see the time when we take the mobile phone out of our pocket and look and put it back. Sure, they can definitely do it. But you are not wearing a watch then you are missing a lot. Wearing a watch can show you some of the qualities that you cannot present in front of people.
There are some factors that you can prove after wearing the watch that you have. the watch is a sign of responsibility. So wearing a watch proves you are more responsible for your work. When you wear a watch on your wrist, it makes you feel like you are a mature person.
After wearing a watch, your self-confidence will automatically increase. The Watch gives you a different look from the whole crowd. The clock teaches you the importance of time. If you are a student and you are wearing a watch then you look smarter then other students. There are many benefits to wearing a watch besides this.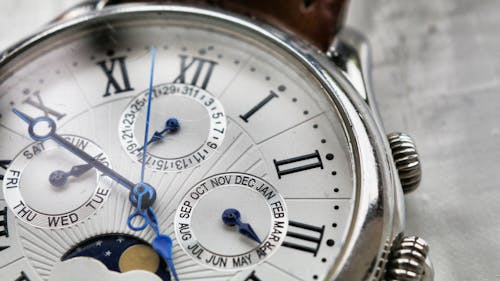 whenever you go for buying a watch at any shop, The shopper will provide all the information which you need it But at a time of online buying you will have to find it yourself from any web browser or any social media. These days many shoppers deceive its consumers. Perhaps you can become one of them. So you should get a watch buying guide before online buying a watch and which I will give you in the article.
Here, some factors considered in the watch buying guide.
check out best smart watch at low budget.
1.

Decide Your Budget
These days when we go into the market to buy any product, first you should check how much money is there in your pocket. In the market many products and many brands available. The more money you give, the better product you will get But we all have a limit to spend money on anything. We all have a different limit on money but we all have.so, before selecting the watch you must decide your budget.
In India almost people belong from middle-class families. Till 22 years most of the people in India are students so they spend their father's money. So some people who belong from rich families have a high budget for the watch but most have a low budget. Don't worry I am here for you. In this article, I will suggest most of the watches at a low budget and gives you the best watch buying guide.
2.

Selecting Shape And Size Of Watch
Shape
After deciding your budget second most important factor for buying a guide of watch is decided which shape of watch you want to wear. Mostly rounded or rectangular or band. You all have a different mindset. So, you all have to select which shape you prefer. According to me you should select a shape of watch on which occasion and where you want to wear a that clock.
If you want full formal watch then you should go for rounded watch. For casual look you can find any type of shape. When you go for buy a smart watch you should buy a rectangular smart watch because in rounded smart watch may be you face a problem to see digits on display. Band watch gives you a semi-formal and semi-casual look so you can use it in your regular manner.
Size
Size is one of the most important consideration to buy a watch. When your watch isn't fit perfectly in your wrist, it concludes that you are not mature person but it proves that there are no difference in you and romeo.
How to measure your wrist size?
Take a flexible measure tape.
Warp on your wrist where you want to wear a watch.
Note your wrist size in inches.
| | | |
| --- | --- | --- |
| Size (inch) | Thickness | Which type of watch match with you? (on regular use) |
| 5.5 to 6.3 | Thin | Sports watch |
| 6.3 to 7 | medium | Leather belt watch |
| 7 and above | thick | Steel or leather belt watch |
Watch Size
An important thing is to look at the watch's diameter when buying a watch. In general, a man's watch diameter is 35 to 46 mm.
For thin wrist you should buy a watch with nearly 35 to 40 mm diameter.
If your wrist is medium then you should buy a watch with 40 to 44 mm diameter.
And your wrist size is thick then you should buy a watch with 44 mm and above diameter.
3. Which Watch Match With Which Dress!!!…(Most important factor for buying guide of watch)
Here, I will give my opinion considering the daily routine of most people. I will suggest a watch for all types of dress.
First of all, you should decide where and with which dress you want to wear a watch. If you have a hobby of collecting watch then you should have all type of watches like a casual watch, formal watch, sports watch, smart watch, business watch.
Formal watch you can use with your school dress if you are student. If you are doing job and your job dress is full formal then you can wear. When you attend any occasion like marriage party and function and you are wearing dress with blazer and tie then you can wear formal watch.
You can use casual watch in your daily routine with jeans and t-shirt or shirt. No basic requirements of dress.
sports watch you can use in regular use if your body is perfect fit like a sport person and at time of running, swimming and cycling. Also you can use as a racing watch.
In smart watch you get a social media notification, message and call notification. Mainly it gives casual and formal both look so you can use it with both dress. Who drives a more they should buy smart watch so they can check whose call coming at a driving time.
your business watch should be combination of golden and white color. So you look more rich.
Your regular watch must be dress watch or semi-sports watch. Color and style totally depends on your shoes style.
AgeWise Watch
If you are looking a watch for 10 to 15 years old teenagers then you can buy rounded or rectangular also. It's doesn't matter. But I prefer you should buy a watch with some different feature for your son. So he wears a watch in daily manner and he can get impression in his friend circle And you can teach him to importance of time.
According to my, mainly you should buy a digital watch or watch with a doubly display. Definitely your son satisfies with it. here I suggest some watch for you check it Amazon and Flipkart and buy it from there.
If you really want to buy a watch for 16 to 22 years old younger then you should buy a watch according to your daily life style.
If your school or college dress is formal then you should go for a formal watch with a brown or black leather band. And after school time you can use casual or sport watches with a leather or rubber strap. If your wist size is above 7 inches then you can use a metal belt watch. Check some watches on Amazon.
Most people inside India start a job or work when they are 22 years old and above. If you are 22 years old and above and you have a really good budget for your watch then you should go for a branded watch. You should buy a watch with a leather belt. So, it will help in looking good at your working place.
If your age is above 33 then you should go with some old golden model. It also gives you a nice look. Here, some watches which shoot on you. Check the article on watch at the age of 24 years and above.
4.

Movement And Inside Look Of Watch
Movement
There are three types of basic movement watches. one is Battery, second is Quartz, and the last one is Mechanical. 
Battery movement of watches uses a battery as a source of energy. This type of watch with Battery movement are the cheapest But in the look there is no difference between battery watch and quartz watch. In general, at most stores, you will find battery watches.
Quartz watch works based on an electronic circuit that remains inside it. Quartz watch consumes less battery but it is more expensive than the battery watches. Also, quartz watches are more accurate. Nowadays most of all watches use a quartz movement.
Mechanical watches have two types. Manual and Automatic. It's work based on the movement of the watch wearer. Mechanical watches are more expensive and more luxurious. 
Inside Look
Inside look of the watch matters in your dress style and your personality. Mainly There are 5 types of watch and from the inside look, we can know the type of watch.
The first type of watch is dress watch. A watch with a leather strap, rounded model, and time showing markers with no date and day shown on display is a full formal watch. With any strap, any shape, date, and day shown on display and with time showing digits not only marker are casual watch.
The second one is a field watch. Years ago warriors wore in their wrist at the time of war. This watch is more durable. At this time farmers and laborers can use this type of watch. This watch we find with a large and clear display with rubber or resin durable band.
The third is the Aviator watch. In this watch, you can see more buttons for stopwatch and timer function like a simple digital watch.
The fourth type is the Dive watch. You can use this watch while high pressure in underwater. It glows in water so you can see the time clearly at a time of diving or swimming.
The last type is a racing watch. In these, you can find two subtypes. Chronograph and Tachymeter. This chronograph watch contains a simple stopwatch and timer and the tachymeter watch shows distance and time. So you can easily figure out speed and time for the remaining distance to overcome on race.
| | | |
| --- | --- | --- |
| Water resistant (in pressure) | Water resistant (in meter) | Where you can use??? |
| 3 ATM | 30 M | For hand washing only |
| 5 ATM | 50 M | In rain and hand washing |
| 10 ATM | 100 M | At Swimming, rain and hand washing |
| 20 ATM | 200 M | Diving time |
5.

Analog Or Digital???
This is the final factor for the watch buying guide.
The main difference in analog and digital watches is the method of display time. Analog watch shows time with hour, minute and second hands but digital watch shows time on a display by digits.
The battery life of the digital watch is more than the analog watch even if the digital watch has extra features like a stopwatch, alarm, etc. In general, the battery life of the analog watch is 2 to 2.5 years but the digital watch has a 4 to 6 years long battery life and long which depends on the model of watch.
Analog watches give a more classic look than digital watches. we easily find an analog watch which matches with our dress but it's extremely difficult to find digital watches which match with our dress. Digital watches give you a sporty look.
Digital watches have more functionality and more features than analog watches. every digital watch shows date and day but not every analog watch show's it. Young boys mainly select a digital watch. Also, digital watches have a timer and stopwatch.
now, you can decide which type of watch you should buy. If you want a classic look then you should buy analog and you want some extra features then you should go for a digital watch. These days, digital watches more selling than analog watches. here I suggest some best analog and digital watches for you which you should buy.
Now, you can choose any kind of watch and i am ending my watch buying guide here.
Our Latest Post:- Top Models Of Washing Machine In 2020